Services: Gas & Oil Boilers
"Worcester's boilers come in gas, propane (LPG), and oil fuel types."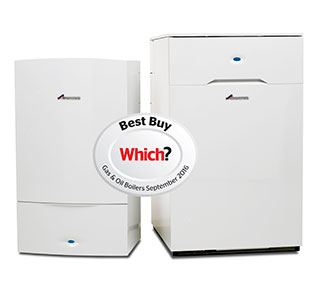 We mainly specialise in fitting partial/full central heating systems using energy efficient condensing Gas & Oil Worcester Boilers to the domestic/commercial market.
We also service, repair & carry out Landlord's Gas Safety Certificates for existing and new customers with Worcs Bosch Gas & Oil boilers.
We are able to offer every customer who has a new Oil Bosch boiler fitted a standard 7yr Bosch breakdown warranty instead of the usual manufacturers  (subject to fitting a Greenstar Sludge remover ).  All Worcs Bosch Gas boilers carry a standard 8yr warranty. There is also a 10yr warranty available (see left hand table). The customer then has peace of mind knowing that Bosch, will come out and attend breakdowns in relation to the new boiler with no cost to them.  (Note: warranty only covers the boiler itself (not new pipework we have fitted or annual servicing costs)
We are constantly training to keep up with the latest regulations and requirements & always insist on filling out all paperwork correctly when installations have taken place. Our staff regularly take part on training courses in the products we choose to fit by Worcester. All work is supervised by experienced personnel & installations are commissioned by Gas Registered engineers, trained & qualified in Energy Efficiency & the new regulations. We always notify Building Control who confirm the installation & notification is sent on to you after it is fitted. Our aim will & always has been to ensure customer satisfaction from the moment of contact to the completion of all the work.
Warranty Summary
Warranties for Gas/LPG/Oil boilers when fitted by a Worcs Bosch Approved Installer:-
The Greenstar Gas Cdi carries 10yr warranty if either a Wave/ Comfort controller is fitted
The Greenstar Si range carries 9yrs if a Wave/Comfort controller is fitted
The Greenstar Ri range carries 8yrs if a Wave/Comfort controller is fitted
The Greenstar i range carries 8yrs if a Wave/Comfort controller is fitted
All Oil boilers carry a 7yr breakdown warranty . If a customer has a Greenstore Cylinder fitted with a oil boiler they get 8yrs breakdown warranty
          
(Note: we have to fit a Greenstar Filter on all our boilers in order to qualify for the extended warranties)
We also fit TITAN Oil Tanks