"ECOplumb have the expereince and passion to provide your home or business with the best possible service. Please get in touch."
NEST Services
We are now approved NEST INSTALLERS (we either supply & fit or fit one you supply) average price of installation only is £120 + VAT upon request. Product rrp is £165.82 + VAT. We do require a visit to see that you are set up for this type of wi-fi enabled thermostat prior to booking in work.
We mainly specialise in fitting partial/full central heating systems using energy efficient condensing Gas & Oil Worcester Boilers to the domestic/commercial market.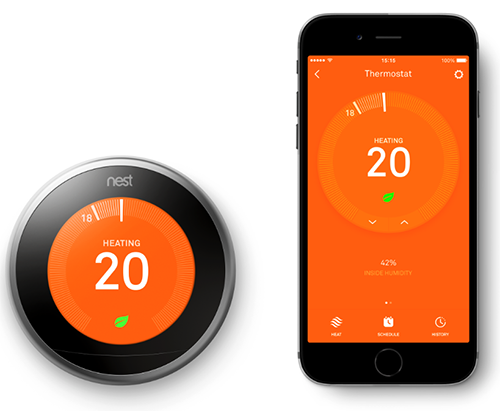 We also fit Bosch Commercial boilers as well as domestic Bosch ones. We can also powerflush your central heating system if you are finding your radiators are cold in places and the heat is not flowing properly.
The latest products from Bosch are their air to air/water heat pumps which we are very popular.  We choose to fit underfloor heating & radiators by Myson which we have used for many years now.
We also service, repair & carry out Landlord's Gas Safety Certificates for existing and new customers with Worcs Bosch Gas & Oil boilers.
We can now take on warranty work from Bosch in the near future to cover breakdowns in relation to any customers whose boiler we have fitted, if Bosch cannot get to you sooner.
WAVE Services
Wave. Smart heating and hot water control on the go.
The Wave smart control is the first of a new generation of Worcester controls. The Wave is a smart, internet-connected programmable control for central heating and hot water which can be operated using a smart phone or tablet.
The Wave's innovative programming enables it to have an 'intelligent conversation' with the boiler and take advantage of advanced control features such as weather and load compensation.
Enhanced energy efficiency.
The Wave's advanced programming enables it to have an 'intelligent conversation' with the boiler to take advantage of control features such as weather and load compensation. This ensures that the boiler modulates its performance to meet the needs of each household, providing the optimum balance of comfort and efficiency.
The Wave app allows you to see a chart of your heating and hot water usage so that you can easily identify where potential savings could be made.
For example, when you turn your room temperature down a leaf symbol will appear to indicate additional savings are being made.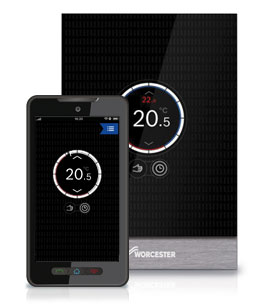 In the forthcoming ErP Directive (Energy-related Products Directive) coming out of Europe, smart thermostats like the Wave are recognised as improving the system efficiency by at least 4%, resulting in lower fuel bills.