"ECOplumb have the experience and passion to provide your home or business with the best possible service. Please get in touch."
Commercial Services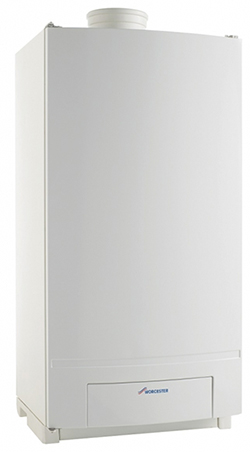 Previously, Ecoplumb Worcester Ltd have fitted Commercial GB162 boilers in Church Halls, Churches, Hotel Spas, & office blocks.
Worcester Bosch offer a range of easy to install, simple to fit light commercial and commercial products, from our GB162 wall hung boilers to continuous flow Greenspring CWi47 water heaters.
New Greenspring water heater from Worcester
Worcester Bosch recently expanded their range of high-efficiency heating and hot water technologies with the launch of the Greenspring CWi47 gas-fired condensing instantaneous water heater.
The instantaneous water heater has been developed to enable installers to meet the growing demand for a gas-fired condensing appliance which provides a continuous supply of hot water for a range of domestic and commercial applications.
With compact dimensions and an output of up to 50kW, the Greenspring CWi47 is ideal for domestic applications with a high demand for domestic hot water, such as larger homes or guest houses.
The condensing water heater is also compatible with a pre-heated water supply, making it an ideal partner for solar thermal or heat pumps, and supportive of current planning requirements.
The latest addition to our established portfolio of heating and hot water appliances can be cascaded with up to 12 appliances to offer a combined flow rate of up to 250l/min. This makes it suitable for larger commercial applications with either consistent high demands or very high cyclic demands for domestic hot water.
Thanks to instantaneous water heating technology, the Greenspring CWi47 frees the need for a storage cylinder, saving space and reducing the risk of Legionella contamination.
"There is undoubtedly a growing demand for instantaneous and continuous hot water generation and in developing this product we have made sure that this can be achieved in the most efficient way possible.
"The Greenspring CWi47 is suitable for a large range of commercial applications, which reinforces Worcester's commitment to offering the installer a high-quality appliance, whatever their installation requirements."
We offer a full 2-year guarantee on parts and labour.
GB162 Gas Boiler overview
For larger commercial applications, please visit the Bosch Commercial and Industrial Heating website.
Our GB162 boiler is perfect for both large domestic and commercial applications.
This boiler has outputs of 50, 65, 80 and 100kW, with the ability to cascade up to 800kW as part of a multi-boiler 'cascade' system.
Its compact dimensions make it especially suitable for installations where space is restricted, and, for larger heat demands, the GB162 can be easily combined in any combination of 2 to 8 boilers either in-line or back-to-back, using the Bosch cascade kits.
Features & Benefits
Warranty: If Ecoplumb Worcs fit the GB162 boiler we can offer 5yrs warranty as Worcester Accredited Installers
| | | |
| --- | --- | --- |
| Can automatically modulate its output down to 30% or less in order to precisely match the demand for heat | Cascade outputs up to 800kW with tailor made frame kits to suit | Any combination of 1 to 8 boilers can be connected either in-line (TL) or back-to-back (TR) |
| Extremely compact space-saving cascades (400kW in just 1m²) | Cascaded boilers can be sequenced to come into and out of operation when required. | Ultra low NOx emission levels |
| GB162 80kW and 100kW models are registered on the Carbon Trust's ECA scheme (Enhanced Capital Allowance) | Compatible with intelligent, modular Energy Management System controls and BMS interfaces | Intuitive user controls |
| Cascade kit includes: Mounting frames, support legs, main gas pipe, flow and return headers (reversible for either left or right orientation), low loss header, boiler connecting pipe work, full insulation | | |